www.midatlantic.cc
Ninteenth Century Iron Ore Smelting Furnace
Furnace Park, Lonaconing, Allegany County, Maryland
. . . . . . . . . . . . . . . In 1837, the George's Creek Coal and Iron Company began building Furnace Number One, an iron-rendering blast furnace, at the foot of Dug Hill, a spur of the Savage Mountain Ridge, a few hundred feet from what is now Main Street (State Route 36) in the middle of Lonaconing, Maryland. One of (if not the first) furnace to commerecially successfully use coal as a fuel, this furnace is the only intact structure of its kind left in the world and is now the centerpiece of the town's park.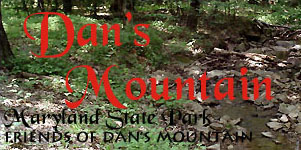 www.lonaconing.org
Dan's Mountain State Park
Allegany County, Maryland
. . . . . . . . . . . . . . . Just outside of Lonaconing, halfway between Frostburg and Westernport, atop a sixteen mile long ridge along the George's Creek valley in western Allegany county, Maryland, is Dan's Mountain State Park -- 480 acres of highland meadow, forest, mountain brooks, and a fishing pond; picnic areas, playgrounds, park benches, and an outdoor heated swimming pool.